HeliPod Airborne Laser Scanning System
Developed, tested, and flown by colleagues at the USACE Cold Regions Research & Engineering Laboratory (in cooperation with NCALM), the HeliPod Airborne Laser Scanning System allows for high-density lidar mapping at low altitudes and slow speeds. The system includes a RIEGL VQ-580 or VQ-480i laser scanner, an iXBlue ATLANS-C INS, and has ports for optional RGB/thermal cameras. The instruments are installed in a removable pod, which mounts to the side of a Robinson R44 helicopter. The readily available R44 provides for versatile and cost-effective mapping. The mapping instruments and operating computers can easily be adapted for use on other airborne platforms with additional plates or pods. The HeliPod system has been used extensively in Alaska and the West Coast.
Low and Slow: Helicopter-Based Lidar for Snow & Ice Observations
Mobile Laser Scanning Systems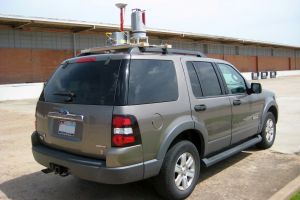 Survey-grade mobile laser scanning (MLS) systems have the capability to collect large quantities of data from "street level." The NCALM/GSES team has developed and supported MLS systems through integrating instruments and writing collection and processing software. The current iteration of NCALM's project-capable mapping system includes a RIEGL VZ-400 laser scanner and an iXBlue LANDINS INS, and integration with multiple VZ-400s or VZ-1000s is easily achievable. The instruments mount to an aluminum plate for use on a variety of ground-based moving platforms.
Compact Multipurpose Mapping Systems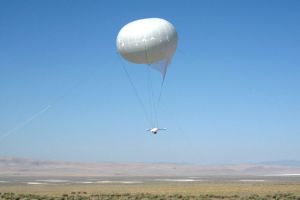 Small mapping-grade systems have been built and tested by Geosensing Systems Engineering & Sciences faculty and students for several years. From single-laser and multi-laser systems, to a balloon-mounted airborne system developed with USGS colleagues (originally at University of Hawaii), these systems have been widely used. Desirable for being easily deployed and adapted, they provide a lower-cost option in mapping. Custom processing solutions, combined with commercial off-the-shelf software, has allowed the GSES program to use varied scanner and navigation instruments during development. This work can be transitioned to small unmanned aircraft systems (sUAS) or indoor mapping. Current concentration involves a backpack platform assembled with two Velodyne VLP-16 laser scanners and a NovAtel SPAN-IGM-S1 INS.

Additional Information
Contact clglennie [at] uh.edu for information or questions regarding system integration, software development, or data collection needs.